Your complete web design and digital marketing partner
We help businesses get found online and help them reach more customers. Call to see how we can help you 01482 628830.
Feedback from our clients
Dutch Imports
Charles Kraanen
Services
Powerful services to cater for any requirements
Lets talk about your project.
Fill in the form below and we'll get back to you.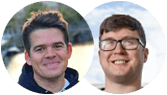 Get in touch
Want to get on a direct call with a member of our team?

01482 628830

hello@eyeweb.co.uk